Special Reports
Special Reports
Once again: UN collaborating with terrorists
May 24, 2004
Israel channel 10 aired Inon Maga'l item showing armed Palestinians use UNRWA ambulances to flee undercover.

Mofaz: UN Ambulances were used to steal Body Parts from Attack Site

Israel has documented UN involvement in past attacks perpetrated by Hamas as well as by Hizbullah. Most significantly, a UN vehicle was used in October 2000 to abduct IDF soldiers from Israel's northern border, leading to the deaths of three soldiers. Other attacks have involved UN vehicles assigned to Arabs living in PLO-controlled areas.

This is what we know. Imagine what we don't know.

The Danger of the United Nations
What do you think?
Visit Our Forum!

---

Mortar Attacks on Israelis from UN Safe Haven
By David Bedein, FrontPageMagazine.com, October 4, 2004

UNRWA Gaza head says group employs Hamas members
By Margot Dudkevitch and Etgar Lefkovits, The Jerusalem Post, October 4, 2004

Evangelical leader calls for abolishing UNRWA
Etgar Lefkovits, , The Jerusalem Post, October 4, 2004

Life without UNWRA
Editorial, The National Post, October 4, 2004


Former Editor-in-Chief of Egyptian Government Paper: 'We were Educated from Childhood that the Holocaust is a Big Lie' - MEMRI, September 10, 2004
Former Kuwaiti Information Minister: Where are the Fatwas Against bin Laden? – 'We Left the World with the Impression that the Arabs are All bin Laden' - MEMRI, September 10, 2004
Three Years Later – The Arab and Iranian Media Commemorate 9/11 - MEMRI, September 10, 2004
Arab and Muslim Reactions to the Terrorist Attack in Beslan, Russia - MEMRI, September 10, 2004
Q&A: Gaza in turmoil
BBC News, July 19, 2004
Arafat cornered by Gaza eruptions
By Roger Hardy, BBC News, July 19, 2004
Int'l Court rules Israel must pull down 'illegal' fence, compensate Palestinians
July 9, 2004
Quote: "Israelis want peace, not a barrier. Yet they prefer to live without the incessant threat of terrorism. The barrier, a legitimate means of ensuring their security, does not foreclose peace negotiations regarding the final status of the disputed territories. Inconvenience that may be caused by the barrier is exactly that, an inconvenience, and it, too, is temporary. Death, however, is permanent."
- Barry A. Feinstein, The Baltimore Sun, July 9, 2004 [Full op-ed]
Barry A. Feinstein is a senior lecturer specializing in international law at the Netanya Academic College School of Law and a senior fellow at its Strategic Dialogue Center.

-
Major Anti-Semitic Motifs in Arab Cartoons
An Interview with Joël Kotek, The Jerusalem Center for Public Affairs
June, 2004

Wartime Witch Hunt:
Blaming Israel for the Iraq War
By Dore Gold, The Jerusalem Center for Public Affairs
June 3, 2004

The Struggle of Palestinian Journalists for Freedom of the Press
By Dan Diker, The Jerusalem Center for Public Affairs
May 25, 2004
Initial report: Hamas leader Rantisi killed in IAF strike
Letter from President Bush to PM Sharon
Analysis: Bush meets Sharon's expectations
Interview: Alan Dershowitz March 28, 2004

Alan Dershowitz is an American civil rights libertarian, Harvard University law professor and a leading defence attorney, as well as a supporter — sometimes a critical supporter — of Israel. In his latest book The Case for Israel, Professor Dershowitz defends Israel's right to exist, and its right to protect its citizens from terrorism and its borders from hostile enemies. Professor Dershowitz, who will be visiting Australia this week, talks to Jana Wendt from Boston about whether he believes Israel was right to target and kill Sheikh Ahmed Yassin.
International Women's Day - March 8, 2004
ATHENS 2004: Israel doesn't have a capital city
Suicide bombing of Egged bus no. 19 in Jerusalem
Bombing Plunges Jerusalem Street Into Nightmare, January 29, 2004
Video Clip Caution: Video contains very graphic footage (Israel Foreign Ministry)
---

From the Jerusalem Post

---
Letters to Swedish Foreign Ministry and Ambassador Mazel
Is There an Alternative to Arafat's Leadership?
By Barry Rubin, The Jerusalem Center for Public Affairs
December 30, 2003

Learning the Lessons of the European Union's Failed Middle East Policies
By Gerald M. Steinberg, The Jerusalem Center for Public Affairs
January 1, 2003

Israeli group hopes to aid Iranian earthquake victims despite rebuff
By Hilary Leila Krieger, The Jerusalem Post, December 29, 2003

Arrests foil Hamas cell plan to kill, decapitate IDF soldiers
By Amos Harel, Ha'aretz, December 23, 2003
Unfortunately, this is what happens when Israel's enemies know that Israel is willing to exchange live prisoners for dead ones. It's far easier to manage dead soldiers - they don't put up a struggle, try to escape, eat etc. Why should they expend any efforts at keeping their captives alive when they know that Israel will pay a price to retrieve even her dead soldiers? - MT Editor

Al-Qaeda's Intellectual Legacy:
New Radical Islamic Thinking Justifying the Genocide of Infidels
By Jonathan D. Halevi, The Jerusalem Center for Public Affairs
December 1, 2003
Balancing IDF Checkpoints and International Law:
Teaching the IDF Code of Conduct
By Lt. Col. Amos Guiora, The Jerusalem Center for Public Affairs
November 19, 2003

An Answer to the New Anti-Zionists:
The Rights of the Jewish People to a
Sovereign State in Their Historic Homeland
By Dore Gold and Jeff Helmreich, The Jerusalem Center for Public Affairs
November 16, 2003

The Bombing of Synagogues in Istanbul:
An al-Qaida Operation or a Revival of Turkish Islamist Terrorism?
By Ely Karmon, The International Policy Institute for Counter-Terrorism
November 15, 2003

Grubby Saddam captured hiding in hole

U.S. troops have captured Saddam Hussein hiding in a hole near his home town of Tikrit in a major coup for Washington's beleaguered occupying force in Iraq.
Grubby, bearded and "very disorientated", the 66-year-old fallen dictator was dug out by troops from a cramped hiding pit during a raid on a farm in Ad-Dawr village late on Saturday, U.S. Major-General Ray Odierno told a news conference in Tikrit. <Full Story> <Leave Comments>


CNN Audio Slide Show: Capture of Saddam
Analysis / The beggar from Baghdad - By Yoel Marcus, Ha'aretz, December 15, 2003
Eyes were glued to the endlessly repeated scene and it was impossible to turn one's gaze from the pathetic image on the screen. Could this homeless man, who looked like a forlorn beggar at a Tel Aviv traffic light, who had his teeth examined and fingers combed through his disheveled hair checking for lice, really be Saddam Hussein? <more>
From the 'Spider Hole' - By William Safire, The New York Times, December 15, 2003
The Capture of a Dictator - Editorial, The New York Times, December 15, 2003
End of the Beginning - Editorial, The Washington Post, December 15, 2003
Hussein Exposed - By Jim Hoagland, The Washington Post, December 15, 2003
Lessons From Nuremberg - By George F. Will, The Washington Post, December 15, 2003
A Step Toward Mission Accomplished - By David Ignatius, The Washington Post, December 15, 2003
'We Got Him' - Editorial, The Wall Street Journal, December 15, 2003
WMD found - Editorial, The Jerusalem Post, December 15, 2003
The capture - Editorial, The Washington Times, December 15, 2003
A Rat In The Hand . . . - Editorial, The New York Post, December 15, 2003
Dragon Down - By Amir Taheri, The New York Post, December 15, 2003
A Tyrant Humbled - By Ralph Peters, The New York Post, December 15, 2003
Closure - By Asla Aydintasbas, The New York Post, December 15, 2003
Analysis: A psychological blow - By Caroline Glick, The Jerusalem Post, December 14, 2003

Undermining the War on Terrorism: The Role of Yasser Arafat and the Syrian Regime
By Maj.-Gen. (res.) Amos Gilad
What Exactly Does Israel Have on Yasser Arafat?
By Eli Kazhdan
Statement by Ambassador Dan Gillerman,
Permanent Representative of Israel to the United Nations
Emergency Session of the Security Council, October 5, 2003
Iran and Syria as Strategic Support for Palestinian Terrorism

Iran as a State Sponsoring and Operating Terror
Syria: Ostensibly "Sitting on the Fence"In Practice - "On the Axis of Evil"
Terrorism as a Preferred Instrument of Syrian Policy
Ten Years Since Oslo: The PLO's "People's War" Strategy and Israel's Inadequate Response
By Joel S. Fishman,
The Jerusalem Center for Public Affairs
, September 2003

Incitement in the Palestinian Authority After the Aqaba Summit - MEMRI
The Seam Zone - Facts & Figures

How the media works when it comes to the Middle East
The News We Kept to Ourselves
By Eason Jordan, The New York Times, April 11, 2003
CNN admits hiding Iraq news; the Washington Post opposes Iraq-Israel peace
From Best of the Web Today, By James Taranto, The Wall Street Journal, April 11, 2003

CNN's Eason Jordan Admits: CNN allowed news to be shaped by threats
By Naomi Ragen, April 11, 2003

Liars and windbags
By Mitchell G. Bard, israelinsider, April 13, 2003

Having collaborated with Saddam, can CNN be trusted again?
By Franklin Foer, The Wall Street Journal, April 14, 2003

CNN knew
Editorial, The Washington Times, April 14, 2003

Trading truth for access?
By Jeff Jacoby, The Boston Globe, April 17, 2003


A new terrorist is born
...Both al Dura and his wife, Amal, said they were prepared to send their other children to die fighting Israel. "There will be no security for them as long as we have occupation,
we're ready to give more of our children
," al Dura said. Cradling the day-old Mohammed, Amal echoed his words. "
Every Palestinian mother would send her child to jihad, defend the land, for freedom, the nation
, this is our land, they took it away from us by force," she said, her head wrapped in a black headscarf.
Munich 30 years later.
Israeli wins gold in European Athletics Championships

The victory comes nearly 30 years after the Sept. 5 attack by Palestinians at the 1972 Olympic Games in Munich, which resulted in the deaths of 11 Israeli athletes... Tears flowed from Averbukh's eyes as the Israeli national anthem played while the crowd stood in stirring silence. He was then given a big cheer.
Elie Wiesel on Radio J
On the morning of August 2nd, on the airwaves of Radio J, Elie Wiesel reaffirmed his "confidence in the Israeli authorities." With reference to the Gaza strikes against the Hamas terrorist Salah Shehade, he declared: "I cannot believe that there is a single Jew, Israeli who wants to kill children."

Reminiscing about his friendship with Yitzak Rabin and his belief in Oslo, he spoke of his present-day uncertainty. Noting that while he does "not love violence," he nevertheless "approves of the policies" of George W. Bush, "of doing everything necessary to ensure that terrorism would not be used as a means to serve political ends," emphasizing that "suicide terror is a menace to Israel and the entire world. It is a threat to the world, not only to a single country."

Weisel regrets that European solidarity with the United States following the attacks of September 11th 2001 is "more tenuous today."
Must read

A Religion of Peace
The Israeli blogger Tal G. notices a disturbing Web site, ClearGuidance.com, which bills itself "a resource guide for Muslim teenagers." Bloggers Charles Johnson and James Lileks also have items about this site--which, after this unwelcome attention, closed down to all but registered users. Lileks quotes from one thread (this is obviously verbatim):

hey am gonna sleep rite now kay....il give u guys the threads name in brothers area ... i want to see that FILLED WITH BLOOD AND OTHER YUMMMY STUFF for tomorrow inshallah

tha name of that thread is "> : : : » JUICY JEW « : : : <" gud name eh ... lol

key gud nite...ma3assalaam
When we viewed the site last night, we saw (and saved to our hard drive) a thread called "Islam's Most Wanted," which seems to incite the assassination of various U.S. and foreign officials. A reader also passed to us a link from another site, which he said he found on ClearGuidance.com. It is an MPEG-format movie of a man (by some accounts a Russian) being beheaded. This link--decency prevents us from providing it--still works as we write.

It sounds as though law-enforcement authorities ought to look into this site. Here's some information to start with: According to the Network Solutions Whois database, the domain name is registered to one Halal Flowers of Staten Island, N.Y. Flowers also holds the registration for Taliban-news.com whose motto is "In Pursuit of Shariah." A reader of Charles Johnson's Web log reports the domain name used to belong to someone with a Muslim name and a Worthington, Ohio, address.
- From The Wall Street Journal's Best of the Web Today, By James Taranto, August 8, 2002
A summer of healing for Israeli kids

Camp helps children who've lost family to suicide bombers

MSNBC

Click for story (Video included)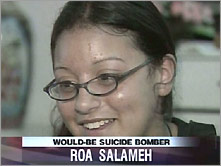 Take a good look at this 12 year old girl.
Does she look desperate?

Click
here
for her story (
Video included
)


Desperation?
or
Education, Incitement and Social Pressure?
You be the judge!



© 2002-2004 by MidEastTruth
Home | Worthwhile Reading | Cartoons | Videos | Selected Quotes | Links | Contact us